Welcome to the Western Washington Railroad
The Western Washington Railroad operates 19 miles of the former Milwaukee Road from MP 48 near Maytown, WA to the end of track at Chehalis, WA. The property is leased for freight service from the City of Tacoma.
Operations are curently provided as needed to meet customers requirements. Team tracks and transload space are available with convenient I-5 access to the Puget Sound region, as well as Southwestern Washington, the Olympic Peninsula and Portland, OR.
Route Map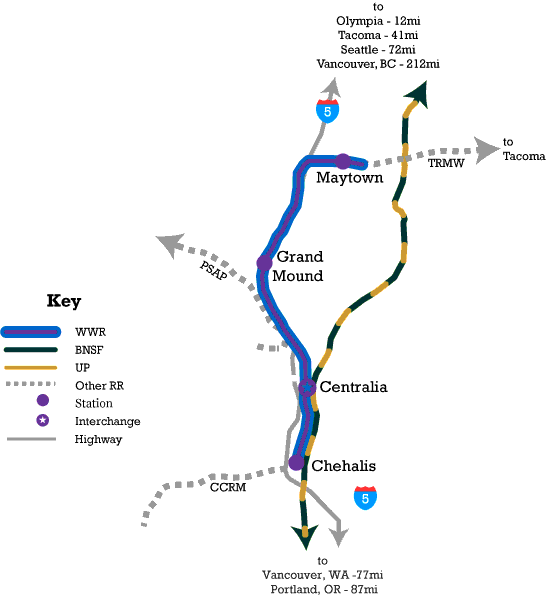 General Information
Alpha Code: WWR
Numeric Code: 659
Interchanges: BNSF - Centralia, WA; TRMW - Blakeslee Jct, WA; UP - Centralia, WA
Station: Chehalis, WA; Centralia, WA; Grand Mound, WA; Maytown, WA
Rates
WWR is a switch carrier for BNSF. WWR charges willbe included in freight charges billed by BNSF,
WWR interchanges with UP on a Rule 11 basis. Contract WWR for a rate quote on traffic interchanges with UP.